Hundreds of Muslim men marched on the streets of Watford last week.
Roads were closed and the parade was given permission to march past the local church while handing out leaflets in an attempt to convert Brits.
BNP activists were on the scene to capture the footage – WATCH THE VIDEO HERE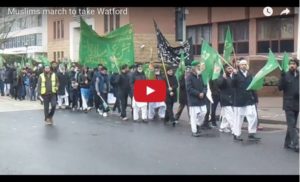 "This is simply a defiant act of colonialism," BNP's David Furness told reporters at the scene.
"The Muslims on this march are stating very clearly – we're here in your country, we intend to make it ours, we refuse to accept your traditions; instead, you must submit to ours."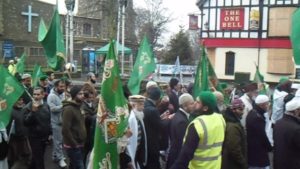 The BNP says: "Enough is enough!"
The fight is on! It's up to you to help provide our frontline activists with the tools they need to protect the rights and well-being of our women and children, uphold our fair and humane treatment of animals, and preserve our precious and unique secular Christian culture and heritage and all our hard-won freedoms.
The strength of our Resistance to the Islamic takeover is in your hands.

Stand strong with us by donating online to the BNP today or call the BNP donation hotline now on 0844 809 4581 to fight the Islamic takeover and keep Britain British – if lines are busy, please try again.
This is an urgent appeal, time is running out – ACT TODAY!
Comments
comments