Labour Party Brexit Betrayal
At the Labour Party conference 2018, Keir Starmer, the Shadow Secretary of State for Exiting the European Union, confirmed that the Labour Party would reject any European Union Brexit deal that Theresa May comes up with unless it involves getting precisely the same benefits as membership of the EU single market and the EU customs union.
Now that is Brexit in name only, and we did not vote for that.
Also, the Labour Party is calling for a second EU referendum.
Labour delegates at their conference overwhelmingly voted in favour of the Brexit motion saying that holding a second European Union referendum should be an option.
Keir Starmer, the shadow Brexit secretary, received ecstatic applause after he said in a speech:
Nobody is ruling out remain as an option.
The Labour Party wants a so-called people's vote but what they fail to realise is that we've already had a people's vote and it took place on the 23rd of June 2016.
On that historic day, we voted for a full and proper Brexit.
We did not vote for a Brexit in name only!
The BNP are the original Brexiteers; since 1982 the British National Party has spoken about the peril of a political union in Europe.
BNP demands full Brexit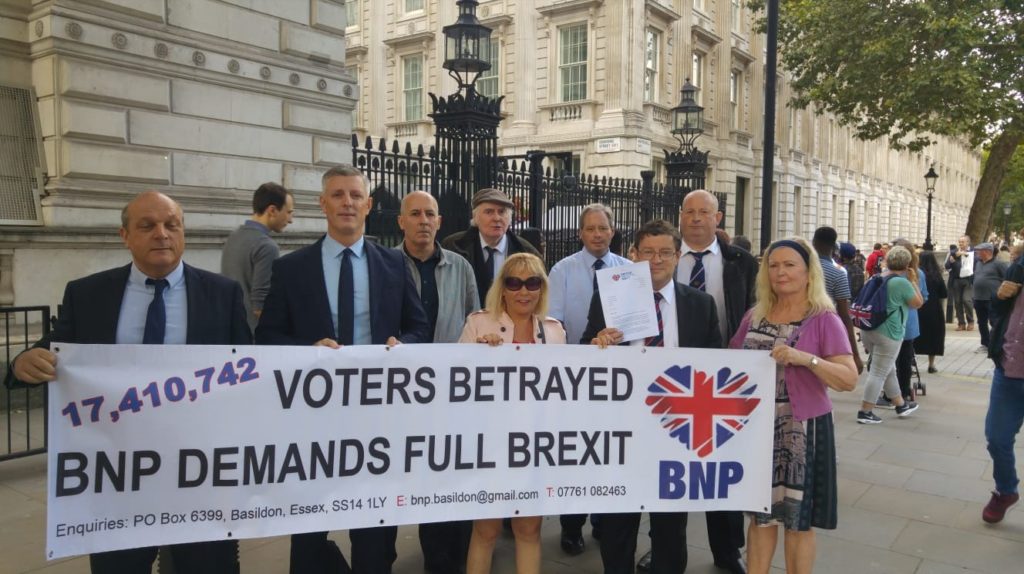 The public response to our Brexit Betrayal campaign has been very positive.
We've handed out thousands of our Brexit Betrayal leaflets.
We have also paid a visit to Downing Street to hand in a letter to Theresa May, asking for her resignation.
Watch the video:
Theresa May is a Remainer, and she has no intention of delivering a proper Brexit.
The people voted for a true Brexit, and that's what we want.
The British National Party is not going to stop its campaign until we get a proper Brexit, so come and join us in our campaign.
We must reject the Labour Party Brexit Betrayal.
Comments
comments