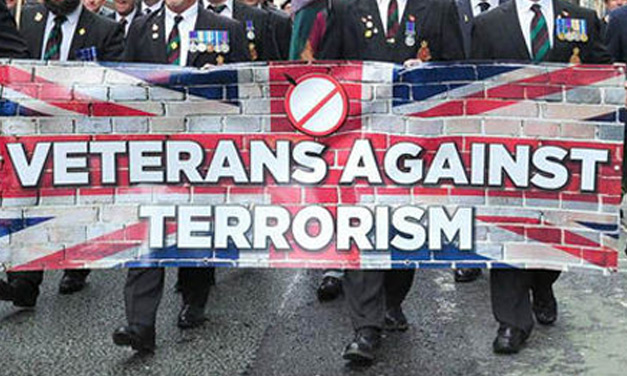 Thousands of Armed Forces veterans have formed a campaign group aimed at tackling the government induced threat from Islamic jihadists in Britain.
Veterans Against Terrorism, which allegedly boasts around 8,500 members, will put pressure on the treacherous British government to take firmer action against the 3,000 or so suspected Muslim extremists they are allowing to live in Britain.
They will present a petition to Downing Street on August 5th.
Although numbers are not yet confirmed, they will then stage a 30,000-strong march through Westminster to Trafalgar Square.
The group staged a similar march last month in Manchester.
Members spoke recently of their "sheer frustration" after fighting jihadist groups overseas only to find on their return that radical Muslims on security watch lists are being allowed to roam free with the full backing of the government.
They have offered to form an unarmed "Home Guard" to support the financially stretched police.
Organiser Dan McDevitt said:
"We have more than 3,000 suspected jihadi terrorists and we know our security services, who are doing a good job, just cannot monitor all of them properly.
"The Prime Minster has said "enough is enough" and we agree. Our solution is simple – deport all non-British citizens who cause serious concern and place GPS tags on the British ones." 
The group will also campaign for more funding to be given to frontline services such as the police.
Mr McDevitt continued:
"If beat police officers had all been carrying Tasers, they might have been able to tackle the London terrorists sooner. 
"The reason all police officers don't carry Tasers isn't because of the cost of the Taser itself; it's the cost of training." 
Co-organiser Sean Smart, a Yorkshire Regiment veteran, said: "Some of us have served just two years while others, like myself, served for 24 years to defend both our country and Europe from terrorism. 
"The whole point was to keep this stuff away from Britain, but despite our best efforts, we are seeing attacks like Manchester and London. 
"I feel we could be utilised here at home. We could act like eyes and ears and use our skills; It's not vigilantism.
"We don't want to use weapons. I mean a Home Guard without weapons or uniform so we can integrate." 
Former SAS hero Phil Campion, the group's official spokesman, said:
"We aren't racial, or political – our interest is the safety of the people of the United Kingdom." 
The group has been backed by other veterans associations, including the British Veteran's Group (BVG).
You can find out more about the BVG and what they stand for on Facebook by searching British Veterans' Group.
British Army veteran and British National Party Chairman, Adam Walker stated:
"Marches give people the opportunity to vent their frustration and are a great way to meet other like-minded people.
"Unfortunately, more often than not they are ignored by the media, targeted by far-left anarchists, do not have the desired effect and are soon forgotten.
"The best way to hit the establishment where it hurts is to get active politically and the best way to do this is to join the only political party that puts the interests of our people first; the British National Party".
The BNP blames consecutive governments for allowing our homeland to be flooded with Islamist terrorists.
We are the only political party that has a solid Ten-Point-Plan to deal with UK Islamification.
Only when these measures are put in place can we live in a safe and secure Britain, a country those who have served in our Armed Forces have fought and died for.

Find the BNP Ten-Point Plan to Counter Islamist Terror here.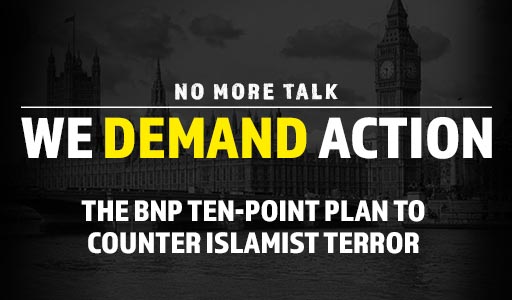 Only BNP policies can build a better Britain. All others have failed.
To make a better Britain we need people who care about our future. Do your bit and join the BNP  today!


Comments
comments