TRAFALGAR CLUB
The Trafalgar Club (TC) is an exclusive dining club for supporters of the British National Party.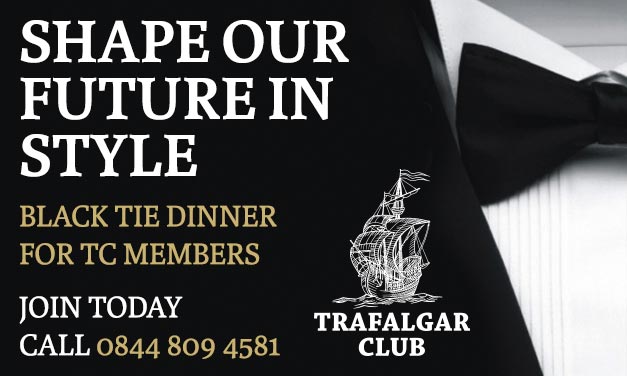 We the British people have never had such an opportunity to make a difference to the future of our country!
All over the UK we have members working in their local communities using "people power" to get the message out. In order to get the message across to the whole country we need your help by joining the Trafalgar Club.
The Trafalgar Club is an elite fund-raising group. Trafalgar Club members pledge a minimum subscription of £15 per month.
You do not need to be a member of the British National Party to join the Trafalgar Club.
If BNP membership is not for you, this is a great way to discreetly support the party.
TC members receive various exclusive and unique gifts upon joining, for both men and women, such as ties, badges, brooches, diaries, dinner invitations and historical tours.
The Trafalgar Club meets every year for a black tie dinner and day trip of historical interest on the weekend closest to the death of Admiral Nelson.
Your contribution will help us achieve;
Better administration as we continue to grow.
Legal advice including taking actions against our opponents who we believe have committed electoral fraud.
Digital duplicators for key branches
Improved security for our newly elected councillors and key personnel
---
WHY THE TRAFALGAR CLUB?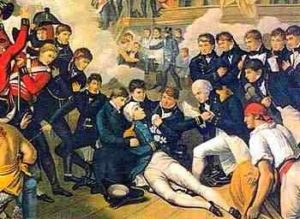 On 21st October 1805, one of the most decisive battles in British history took place off Cape Trafalgar on the southern Spanish coast.
It ended Napoleon's dream of conquering all of Europe and his fleet was utterly decimated.
Not a single British ship was lost in the battle but losses of crew were heavy including the death of Britain's most famous Admiral, Horatio Nelson.
A son of Norfolk he rose from humble origins, (his father was a clergyman) through the ranks to become the archetypal Hero.
Along with Horatio Nelson over 1600 British sailors met their end in this most famous sea-battle. They gave their lives so that others may live and Britain could thrive and prosper.
Their sacrifice made the difference!
Trafalgar Club members are not asked to give their lives, just the very small sum of £3.46 per week. It is equivalent to just a little more than a pint of real ale, less than a week's supply of "The Times" or the "Daily" and "Sunday Telegraph".
---
The Trafalgar Club is an excellent opportunity to meet BNP Chairman Adam Walker, members of the core BNP team and to network.
Is your country worth £3.46 a week?
Are the futures of your sons and daughters worth the cost of a few chocolate bars?
Join the Trafalgar Club today by calling 0844 809 4581 now, or writing to:
The Secretary, PO Box 213, Wigton, Cumbria CA7 7AJ
It's even easier to join the Trafalgar Club online right away by simply filling out the form below.
IMPORTANT: Please note Electoral Legislation makes it illegal for any party in the UK to accept anonymous payments of more than £200, or to accept payments totalling more than £200 a year from anyone who is not on the electoral register in the UK. Any 'unacceptable' gifts will have to be returned to the donors if we can identify them, or handed over to the despised Government if we can't!

Thank you for your contribution
Your contribution is very much appreciated to help bring about change in Britain. Now please choose the appropriate amount below corresponding to how much you would like to pay to the Trafalgar Club on a monthly basis. Alternatively, you can decide to pay for the yearly subscription in one lump sum.
The yearly subscription is £180 which works out at less than £4 per week, in reality a pathetically tiny amount of money! Our enemies spend £Millions every day to create new soap operas, documentaries, radio programmes and countless advertisements, each of which are deliberately created to undermine the notion of patriotism, pride in one's family, community and country.