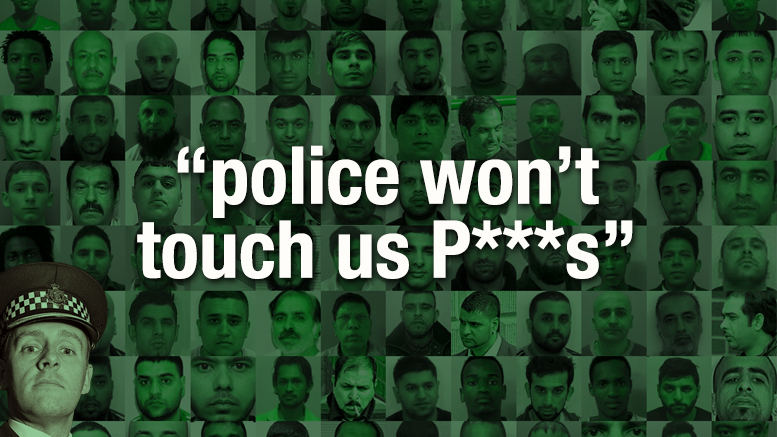 According to the mother of a Huddersfield Muslim Rape Gang victim her daughter's rapist responded to her threat to report the racist paedophile to police by saying "bring it on, they won't touch me, they don't like us P***s."
Speaking to the Huddersfield Examiner, the mother of 'Girl L' confirmed that police refused to listen to her complaints or treat the racially motivated grooming and gang rape of white children as a crime:
"We were passing all this information on and all they would say is 'we're building up intelligence' and this went on for years."
Thankfully, the BNP had also been independently building up intelligence after having been approached by scores of distraught parents and victims who recognised the 'British people first' political party as the only reliable institution that had their interests at Heart.
Single-handedly and under crippling persecution, the BNP brought the horrific attacks on our children by Muslim Rape Gangs (tamely referred to in Establishment media as 'grooming gangs') to the World, and provided the notorious 2014 Jay Report with the vast bulk of evidence used to reach their damning conclusion.
The evidence was conclusive; white girls were being handed over to gangs of paedophilic sexual predators "of Pakistani heritage", tortured, gang raped and trafficked all in the full knowledge of police forces, politicians and social workers.
This is a politically motivated drive to appease the Muslim colonisers, to keep the politicians' multicultural project from total and bloody collapse, and ensure the Muslim bloc vote for the Labour Party.
This horrific scandal is a betrayal by the Establishment – the political class, their police and authorities and their media mouthpieces – of the highest order. At the time of print, that sick and rotten edifice is headed by Theresa May, a career politician who could have acted at any time to protect our girls. She, like the rest of her deplorable ilk, must be held accountable.
The BNP is the ONLY anti-Establishment political force in Britain! The stronger we are the greater pressure we can put on those who can effect change.
You can help us to help those little girls – join the BNP online here today or call our hotline now on 07572 548 669.
Adam Walker
BNP Chairman


Comments
comments