Political Correctness is madness:  Stoke City and Arsenal affected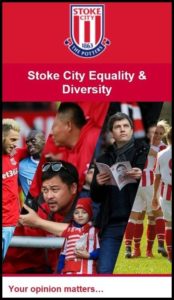 For a long time, I have become acutely aware of political correctness taking over the sport of football.
The days when someone could watch a football match without being bombarded with political correctness seem to be disappearing.
In 2011, Sky Sports sacked the hugely popular Sky Sports football presenters,  Andy Gray and Richard Keys.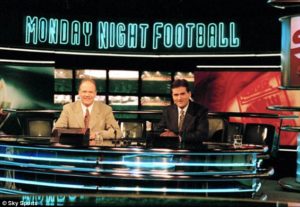 Believing their microphones were off, Keys and Gray agreed that Sian Massey and other female assistant referees "did not know the offside rule".
Barney Francis, the managing director of Sky Sports, said: "Their comments were totally unacceptable."
In 2017, political correctness in football has accelerated.
Political correctness: Stoke City Equality and Diversity Survey
Last week, a football fan supporter alerted me to an online survey that Stoke City Football Club sent to him.
For some reason, Stoke City FC wants to know if any of its supporters are transgender.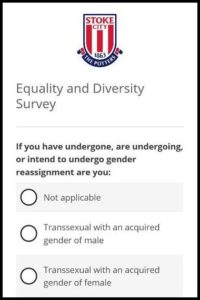 Another question asked is: "Are you undergoing gender reassignment?"
The Football Club claims that it needs this information to "implement specific programmes".
What those 'specific programmes' are, remains unclear.
What all this has to do with football also remains unclear!
Stoke City Football Club and the British National Party
The Premier League Football Club issued an official statement on its website during the recent Stoke Central parliamentary election.
"Stoke City is aware that the BNP candidate in next Thursday's Stoke-on-Trent Central by-election, David Furness, recently posted online an election video filmed in a car park at the Bet365 Stadium.
"He did so without first seeking permission from the Club, which would have been refused in any case.
"The Club wishes to make it clear that it in no way supports his views or those of the BNP."
Newspaper report on BNP video filmed in a car park
Why all the fuss about a 30-second video?
Perhaps it's because the Chairman of Stoke City FC is a huge donor to the anti-British and politically correct Labour Party.
I received no objections from Stoke City football supporters.
Here is the video that upset the football club and the Labour Party:
Following the extraordinary statement by Stoke City FC, I returned the following week to shed some light on their objections.
Arsenal Football Club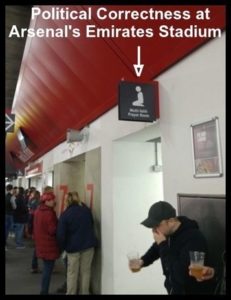 There is now a Multi-faith Prayer Room inside the Arsenal football stadium.
Is this really necessary inside a football stadium?
Kick political correctness out of football
We know that the Liberal-Left has infiltrated the media, the legal profession, and the school system. So, now the Liberal-Left has turned its attention to football.
Kick political correctness out of football. Enough is enough!
Comments
comments