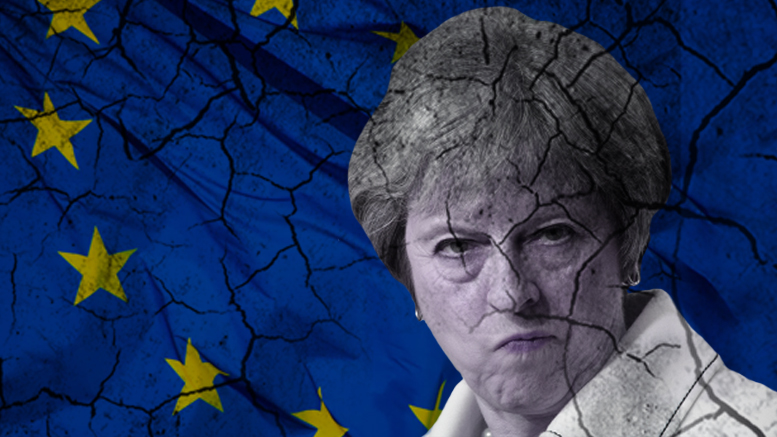 The "worst deal in history" was thrown out of the British parliament this week in a significant blow to the EU.
Concocted by pro-EU 'Remainer', Theresa May, and her fellow globalist, shady Eurocrats the near 600-page contract was nothing more than a devious, "triple lock trap" engineered to keep Britain chained to the European Union for all time.
Within May's unnecessary 'Withdrawal Agreements' – "withdrawal" being an "Orwellian misnomer", meaning precisely the opposite – legally-minded civil servants had inserted conditions which, by way of stealth, would have guaranteed Britain being shackled to the EU.
Embedded within May's 'Withdrawal Agreements' was her "triple lock" structure, which would play out during the transitional period.
First, it involved ceding an estimated £39Billion to the EU for nothing, while still being bound by EU law.
Second, it carved out Northern Ireland as an EU province, set a border in the Irish Sea and imposed EU trade tariffs for crossing it.
Third, unless a "future partnership" – a capitulation – was to be conceded to with the bloc, all EU conditions would remain on Britain. In other words, Britain would remain shackled to the EU whichever path she took.
That was Theresa May's "deal". A stab in the back for our nation and the British electorate.   
In an effort to push through her traitorous act, May attempted to hoodwink the British public stating that without her Withdrawal Agreements, Brexit might never take place, all the while knowing full well that Brexit will leave the EU by "default without it under the terms of the European Union (Withdrawal) Act."
Having already delayed the parliament vote once, it was finally held on 15th January where May lost the vote by the biggest margin ever seen in the house.
Everyone saw it coming, but few imagined she'd lose by such a large margin: 432 to 202. 
It's great news for nationalists and a blow to the globalists.
With the rotten, old globalist Establishment on the back foot, we must seize the opportunity and press the advantage.
We need your help to step up the pressure and do just that to prevent the rotten old Establishment stealing our country from us and making us subject to foreign domination and rule.
Join to the BNP online here today.


Comments
comments