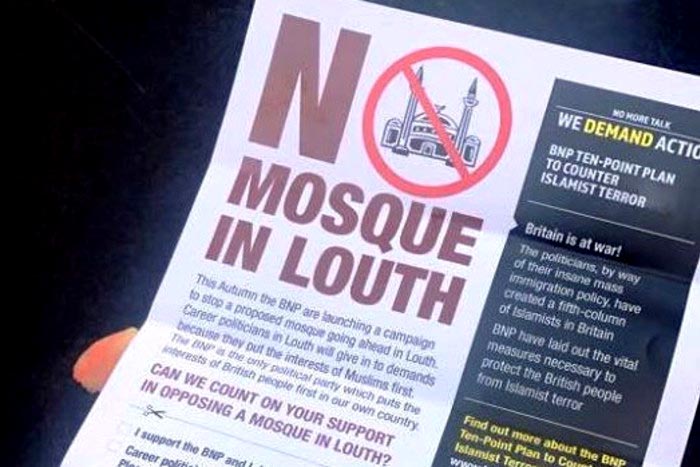 The BBC and a local leftist rag have taken up the fight of an ineffective Labour Councillor in Louth, Lincolnshire after the local BNP team exposed plans for a new mosque in the area.
Last Sunday, local BNP teams in Louth were out delivering their leaflet which warns against plans to convert a building in the area into a mosque.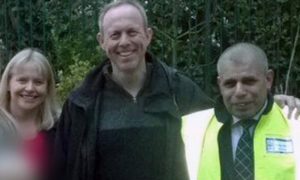 Within 24 hours, Labour Cllr Dodds, who proudly flaunted a photograph of herself visiting a Grimsby mosque in February, ran to BBC Radio Lincolnshire to issue a statement that there was no official application for planning.
Interviewed by BBC's William Wright, Dodds insisted that she was not "aware" of any plans for the new mosque.
"So what if there's a mosque in Louth?" asked Wright.
"Yeah, so what?" Dodds replied.
None of the residents had come to her to express "fear" or "concern" at there being a mosque in Louth, she continued.
Next, she scuttled off to commandeer local leftist rag Louth Leader which promptly ran with a story of denial by an anonymous author.
In it, he/she/it quoted an anonymous 'source' from the local council which allegedly issued the statement: "We have no applications in for this."
Local BNP activist Alan noted: 
"It's a suspiciously frantic attempt to deny an accusation by the BNP.
"They've never seen it necessary to refute other claims in our literature regarding halal meat or Muslim Rape Gangs"
"Here's the thing: Labour know that once their plans go into motion, it's very difficult for residents to stop them, that's why they're making strained efforts to keep it under wraps.
"We're informing local residents of what Labour has in store for Louth, and they don't like it."
Despite the BNP replying promptly to the BBC's request for a statement, Louth Leader went on to claim that they had contacted the BNP for a comment but "no reply has been received at the time of going to press."
Curiously, the Louth Leader published the same spurious claim in a story earlier this year about the BNP's exposé of Muslim Rape Gangs, apparently not getting a response then either.
Given the BNP's track record of prompt responses to the press, it stands that the anonymous author is either so incompetent that they cannot retrieve a contact phone number from a web page or they struggle to punch digits into a telephone handset.
"It's no wonder Labour is panicking about their mosque plans," continued Alan.
"In just two leafleting sessions we've received a stack of mail from concerned residents, BNP supporters and non-BNP supporters alike registering their support for our campaign to stop any mosque going ahead."


Comments
comments