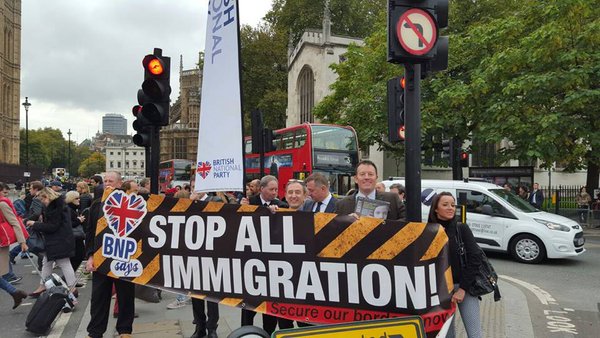 The biggest immigration myth is the lie that we need immigration to solve 'the skills shortage'.
City bosses, employers, and politicians are all saying that we must have immigration otherwise the country will collapse.
This fixation on immigration is illogical and foolish.
Immigration is a permanent solution to a temporary problem if there is a skills shortage.
If there are skills shortages in Britain, then our schools and universities are not doing a good job, despite students achieving a record number of grade A passes.
However, let's not forget that when employers say they cannot get skilled workers, what they really mean to say is: "We cannot get the staff we need at the low-wage we are prepared to pay".
I know the tricks that employers can get up to when they want to increase their profits.
NHS computer system fiasco 
Having worked in the computer industry for a long time, I saw first hand one of the reasons why large-scale computer systems fail in Britain.
American computer companies used to come over to Britain and recruit British computer software engineers not because they were better than their American counterparts but because they were far cheaper to employ.
British computer companies then started to recruit computer specialists from India not because they were better than their British counterparts but because they were a lot cheaper to employ.
As a result of these activities, tens of thousands of British computer specialists were either thrown out of work or saw a massive fall in their earnings.
Another consequence of this is that large computer systems began to fail regularly.
In 2011, Labour's disastrous £12billion NHS computer system was axed.
British Airways fiasco 
A few weeks ago British Airways suffered a global IT system failure so serious that it cancelled all its flights out of London's Heathrow and Gatwick airports for a few days.
The catastrophic failure happened on a Bank Holiday weekend.
This was the sixth major crash for its recently installed computer system in the space of roughly a year.
Maybe it's just a coincidence that British Airways made seven hundred very experienced British IT professionals redundant and outsourced a lot of their IT work to bargain-basement and very inexperienced Indian IT workers.
Temporary Work Permits v Passports
Britain could issue temporary work permits instead of passports for any foreign workers that are needed.
This system of temporary work permits is used successfully throughout the world.
However, strict controls must be in place, and these permits would have to be issued only for genuine skill shortages and not because greedy employers want to avoid paying a decent wage.
Meanwhile, we can train our own people to get the skills that are required.
Another immigration myth debunked

So, it's an immigration myth that we have to give passports and a permanent right of settlement to every foreign worker, their children, and their dependants, as we currently do.
As Enoch Powell once said, "We must be mad, literally mad!"
The BNP will: 
Stop all further immigration into Britain until we can sort out the politicians' immigration shambles and deport the two million here illegally.
Comments
comments