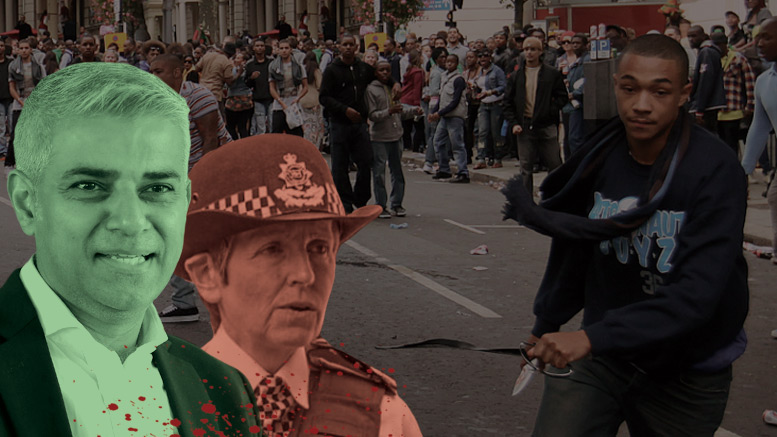 Sadiq Khan's London has become so dangerous that even immigrants are abandoning the crime-ridden city.
The latest incident involves the murder of 22-year-old Benjamin Pieknyi who, after he and his friend had been targeted randomly and harassed by a multi-racial 'diversity' gang, was stabbed to death by the gang leader, Ukrainian immigrant Valdyslav Yakymchuk — who had been in the country for only two years.
The senseless and tragic murder of their son, prompted the Pieknyi family to abandon London and return to their comparatively poor Romanian homeland citing the fact that London under Labour's Islamist Mayor was "too dangerous".
It's the latest in a series of knife attacks in the capital city which has even forced Sadiq Khan to consider relieving police from trawling the internet looking for 'hate speech' and put cops back on the streets to fight real life crime instead.
Recent figures from the Office of National Statistics (ONS) have revealed that 1 in 5 adults in England and Wales experienced crime in the past year with homicide up by 14 %, violent crime involving blades or knives up 12%, sexual offences up by 18% and robbery by 22%.
Combined with the Politically Correct policing of politicised police chiefs, and increasingly rank and file cops, British police now present a "serious risk of harm" to the general public.
While the out-of-touch political class in Britain, bankrupt of new ideas, cling to their flawed and failed Globalist agenda of 'diversity' and multiculturalism, the general public – native Brits and increasingly immigrant newcomers – pay the price.
Diversity is division! Is it any wonder that the factional chaos of countless 'cultures', each with their own special interests, all planted in one place, have resulted in London descending into a dystopian metropolis with crime-levels worse than that of the Third World?
The BNP is the ONLY political party which fights to preserve our precious and unique British culture and fully restore it in our native homeland.
The BNP is the ONLY political party calling out the betrayal and failure of the rotten political class, their corrupt authorities and their increasingly politicised police.
We need your help to step up the pressure to bring about change and prevent the corrupt and racist Establishment destroying our country.
Join to the BNP online here today.


Comments
comments