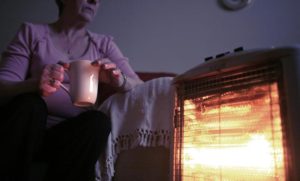 ONE million pensioners expect their health to suffer this winter as expensive energy prices set by foreign owned companies mean they cannot afford to heat their homes yet again.
Disgracefully, almost 50% will have to use their savings, while 38 % will be cutting back on the money they spend on food to pay ever increasing energy bills.
From Britain's 11.5million over 65s, nearly one in ten are anticipating either a new health problem or the worsening of a current condition, as they struggle with the cold.
Peter Earl, Head of Energy at comparethemarket.com said:
"It's worrying that a million elderly people in the UK have to sacrifice their health just to pay for their energy bills.
"Cold weather and the resulting health problems are a real issue for the elderly who fall victim to the cold temperatures every year.
"Given the vulnerability of the elderly, it should be an absolute priority to ensure that they are able to afford their energy costs and appropriately heat their home."
Mr. Earl added:
"While the Winter Fuel Allowance clearly goes some way to solve the problem, the fact that the number of people struggling to afford their energy bills is so high shows that more action has to be taken to ensure that OAPs are on the best energy deal possible. 
"Our latest energy insight found that over 65 year olds saved an average of £212 on their energy bills in December by switching provider. 
"This saving, combined with the Energy Fuel Allowance, is one step towards giving elderly people in the UK enough support to heat their home, rather than risking their own health to save money."
While we agree with the comments made my Mr Earl, he failed to mentioned the fact that energy companies are foreign owned and can charge what they want, when they want, while not giving a care for the very people in Britain who have contributed to making our country the fifth largest economy in the world.
He is not alone in failing to mention the fact that consecutive British governments over the past several decades are responsible for selling off our assets to private foreign investors.
The silence on this subject is deafening.
He mentions that some pensioners saved money by switching providers, but as many of us have experienced, this can be a nightmare in itself with many pitfalls.
Put simply; pensioners should not have to be so worried about paying bills that they have to constantly change foreign owned providers to claw back money they should not have to spend in the first place.
The British National Party will re-nationalize all of our energy companies, where they would be put in the hands of people who believe British pensioners should not have to worry about staying warm in winter.
British pensioners who have paid into a system all of their working lives should not be forced to decide whether to eat or heat.
Only the British National Party has policies to make Britain GREAT again!
Find out more about our policies on energy here.
Comments
comments