At the March monthly East London BNP meeting, members heard stirring speeches from Paul Sturdy, Mike Jones, and David Furness.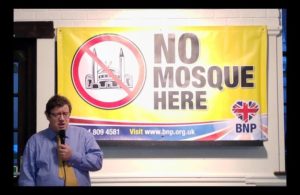 Against the backdrop of a NO MOSQUE HERE banner, the speakers talked about the accelerating Islamisation of Britain.
The audience gave a very favourable response to the speeches.
Also, East London BNP used its brand new public address system for the first time.
No More Mosques
In particular, East London Organiser Paul Sturdy mentioned the BNP's opposition to the building of a mosque in Dagenham.
London Organiser Mike Jones spoke about the Turkish President's warning that Europeans will not be able to walk the streets safely.
[Just a few days later, the London terrorist attack occurred]
Finally, guest speaker and National Press Officer David Furness said that the BNP will deny permission for any more mosques and minarets.
Members present were happy to see that East London BNP now has a broad range of recruitment literature.
So, there is a wide choice of leaflets for local activists.
More activities and meetings are planned.
It's going to be an exciting time for our party in and around the London region.
Therefore, now is the time to get involved and become active.
To contact the British National Party in London,  email london@bnp.org.uk


Comments
comments